One of the most popular Macedonian songs ever recorded declares that there is no girl in the world more beautiful than a Macedonian girl. We play it in 7/8 lesnoto rhythm.
Read More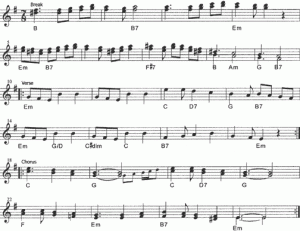 Music transcribed by Michael Gordon
I'm publishing an online collection of sheet music for songs from the southern Balkans that I've transcribed over the years. Most are from the repertoire of Balkanarama, the Seattle dance band that I helped start in 1997 after many years in the L.A. Balkan scene. The sheet music is in high-resolution PDF format and is available to musicians anywhere for free. At the moment I'm adding two songs a week, on Tuesdays and Fridays. Enjoy!
Read More