One of the most popular Macedonian songs ever recorded declares that there is no girl in the world more beautiful than a Macedonian girl. We play it in 7/8 lesnoto rhythm.
Read More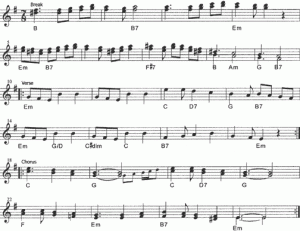 Music transcribed by Michael Gordon
Starting with the beloved song Makedonsko devojce, I am growing a collection of sheet music for songs from the southern Balkans that I've transcribed over the years. Almost all will be from the repertoire of Balkanarama, the Seattle dance band that I helped start in 1997 after many years in the L.A. Balkan scene. The sheet music is in high-resolution PDF format and is available to musicians anywhere for free. I'll add two songs a week, on Tuesdays and Fridays, with occasional bonus tunes. Enjoy!
Read More