In the fall of 2012, look for us to be appearing approximately monthly at two nightspots in Seattle. Drop by whenever we're playing, or – since both are great places to hang out – whenever we're not: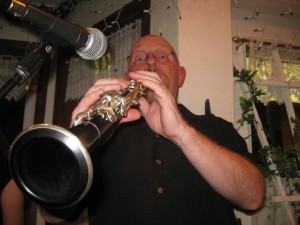 Georgia's Greek Restaurant
383 NW 85th St, Seattle 98117
(206) 783-1228
This neighborhood gem just west of 3rd Ave. features family recipes from northern Greece, accompanied by Greek beers, wines, ouzo, raki and Metaxa. Live music most Saturday nights, except in summer, with a small dance floor (dancing between tables is also encouraged). Georgia's is a longtime supporter of live music from southeast Europe in Seattle and fought City Hall for the right to present it in a family-friendly taverna atmosphnere. It deserves the community's support.
We are also playing one Sunday night a month, more or less, at our favorite ocean-view hangout in Belltown: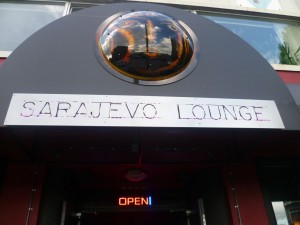 Sarajevo Lounge
2332 First Avenue, Seattle 98121
(206) 448-9000
An upscale European club with full bar and dinner menu of homemade Bosnian cuisine opens onto a spectacular view of Elliott Bay at First and Battery in Belltown. We've started playing every month or so as part of their Sunday night traditional Balkan music series. We perform songs mostly from former Yugoslavia, including hits by Saban Bajramovic, Muharem Serbezovski, Esma Redzepova, Goran Bregovic and other popular artists. Everyone is welcome and dancing is encouraged – you don't need to know the steps.
Other places we've performed
Festivals
Fremont Fair main stage, Seattle
Hempfest
Fairhaven Green Summer Concerts, Bellingham
Seattle-area clubs and restaurants
Crocodile Cafe (International Rescue Committee benefit)
The old Porta Greek Taverna
The Rainbow
ToST
The old Zig Zag Cafe
Romio's
Other venues and events
Bellingham Folk Dancers
Bulgarian New Year's Eve party for Seattle Bulgarians
Balkan Luau parties in Seattle in the late '90s
Balkan New Year's Eve partiesn in Seattle in the late '90s and early '00s
Kingston Arts in the Parks
University of Oregon, Eugene
Reed College
balkanalia! camp hosted by East European Folklife Center
Crossroads Center music stage, Bellevue
Seattle Folkdance Festival
Bellingham Folk Dancers
University Folk Dancers
Balkan New Year's Eve parties in Seattle and points north
Weddings all over western Washington